Musicians Convocation and Blessing of Musicians
and the ACMP Annual Meeting and Student Awards
May 13, 2014
Cathedral Basilica of SS. Peter and Paul

Msgr. Arthur E. Rodgers, our Cathedral Rector, who was presiding.
Fr. Gerald Dennis Gill, the head of our Office for Divine Worship,
who gave a beautiful homily
---
T

he 10 Bright Young Stars of Liturgical Music
who received the ACMP Student Awards, their families,
their Parish Music Directors and ACMP Officiers Ralph Purri and Pat Gallo-Terrenzio.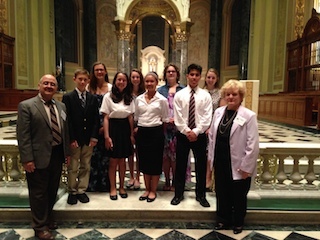 ---
T

he Former Members of the Collegiate and Cathedral Choir,
who came to celebrate and sing with us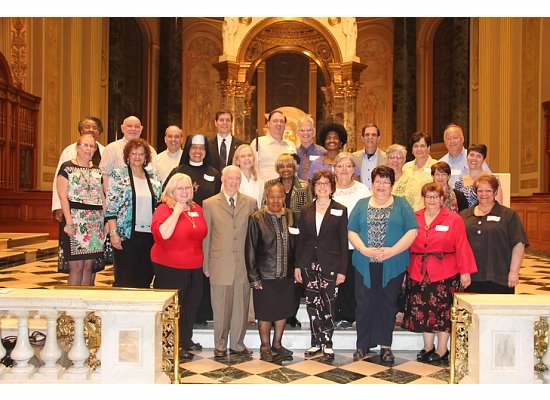 ---
The members of the Archdiocesan Choir,
the Cathedral Choir
and Archdiocesan Girls Choir
who sang the Choral Prelude and gave musical leadership to the Evening Prayer

T
o Charlene Angelini for your amazing cantoring.

T
o Michael Hogue for his beautiful Tenor solo in Mendelssohn's Ave Maria.

To our Archdiocesan Organist Zachary Hemenway for his beautiful job at the organ.

Special thanks to Micheal Zubert for writing our Choral Antiphons for Evening Prayer.

---
Thanks to all who helped with our Archdiocesan Sacred Music History Project,
especially Sr. Mary Daniel and Jean Madden.
While this is very much a work in progress,
their unbelieveable efforts made this dream a reality
and in the 150th Anniversary Year for the Cathedral Basilica
we now have a complete linage of Music Directors from 1864!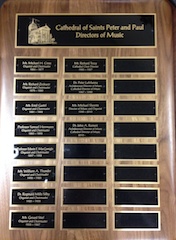 ---
AND FINALLY…Thanks to all who attended this Annual Gathering
of the Liturgical Musicians of Philadelphia!
It was a great evening to celebrate
our history with our Liturgical Music History Project and our Collegiate Choir reunion,
our ministry with our annual Musicians blessing,
and our future with our ACMP Student Award winners.